The Holy Spirit | This Same Power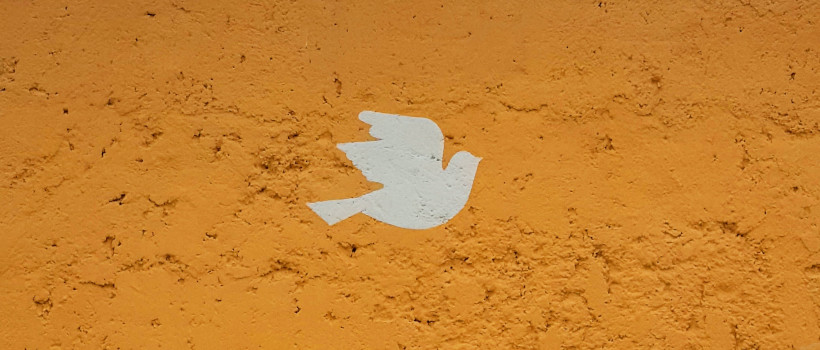 Reading Time:
10
minutes
"If the Spirit of Him who raised Jesus from the dead dwells in you, He who raised Christ Jesus from the dead will also give life to your mortal bodies through His Spirit who dwells in you" | Romans 8:11, ESV
"…This is my [Paul's] prayer. That God, the God of our Lord Jesus Christ and the all-glorious Father, will give you spiritual wisdom and the insight to know more of Him: that you may receive that inner illumination of the Spirit which will make you realise how great is the hope to which He is calling you—the magnificence and splendour of the inheritance promised to Christians—and how tremendous is the power available to us who believe in God. That power is the same divine power which was demonstrated in Christ when He raised him from the dead and gave him the place of supreme honour in Heaven—a place that is infinitely superior to any conceivable command, authority, power or control, and which carries with it a name far beyond any name that could ever be used in this world or the world to come." | Ephesians 1:18-21, JB Phillips
The Spirit has been intricately linked with humanity's story, from the very beginning. It was God's Spirit that brought the world into being (Genesis 1:2). It was God's Spirit that empowered men and women in both the Old and New Testament times to prophesy, decipher dreams, possess extraordinary talent and knowledge, and undertake great feats of courage and action  (Genesis 40:8, 41:38, Exodus 31:1-6, Judges 3:10, Judges 6:34, Luke 2:25-26, Luke 2:36-38). It was God's Spirit that sparked conception in Mary's womb, bringing about the birth of Jesus Christ (Luke 1:30-37). Jesus' veracity as God's Son and the revelation that he was sent 'to take away the sin of the world' were both affirmed by the Spirit (John 1:29-34). And it was the Spirit of God that raised Jesus from the dead (Mark 16:9, Romans 8:11).
This same Spirit, the Apostle Paul assures us, dwells in all those who have surrendered to Jesus as their King and Saviour, empowering and transforming their lives too (Romans 8:11, Ephesians 1:18-21).
Our story, when we choose to become Christian believers, echos the incredible story of creation and the work of the Holy Spirit in the very beginning. The story of creation is our first glimpse into a story that is retold throughout the Bible; that of bringing life and light out of darkness, through the action of God's Spirit, and often connected with the medium of water.
The Creation Of The World
"In the beginning God created the heavens and the earth. Now the earth was formless and empty, darkness was over the surface of the deep, and the Spirit of God was hovering over the waters." | Genesis 1:1-2, NIV
The heavens and the earth lay empty. We're not told how they came to be this way. We're only given a description of complete nothing-ness – a wasteland of darkness. The Hebrew words used in these verses convey the idea of desolation (ṯō·hū), an undistinguishable ruin (wā·ḇō·hū). Yet, where we would see hopelessness, God sees possibility. Out of chaos, disorder, and darkness, He brings order, light, and life.
It's into this dark chaos that the Spirit of God breaths. Hovering over the waters like a bird brooding over her young ones, the Spirit of God moves over the face of the deep, poised to begin His creative work.
The Hebrew word for 'spirit' (wə·rū·aḥ) can refer to a number of different things. We may tend to think of it as simply breath or wind and sometimes it does mean that. But it's also used to convey more. Energy, vitality, strength, breath (as in, animating power), mind, or even life can all be meant by the word wə·rū·aḥ. The Biblical authors also used this word to describe God's personal Presence. Just as wind or breath is invisible, so God's Spirit is invisible; just as wind has power, God's Spirit is powerful; just as we're kept alive by breath, all things are sustained by God's Spirit (Micah 3:8-10, Ecclesiastes 11:5, Acts 2:1-5, Job 34:14-16).
The use of the word hovering or brooding in Genesis (also translated as 'fluttering lovingly') gives us a clue as to the more complex nature of God's Spirit. God's Spirit is not just energy, like some kind of electrical current, but is His divine personal Presence, the sum of all His will, His consciousness, His emotion, His character, and His power. His Spirit is of Him and is Him. He is everywhere by His Spirit. As the Psalmist poetically exclaims, there is nowhere we can go where God's Spirit is not. This is a concept not easily understood by our human minds.
"Where can I flee from your Spirit? Or where will I run from your presence? If I rise to heaven, there you are! If I lay down with the dead, there you are! If I take wings with the dawn and settle down on the western horizon, your hand will guide me there too, while your right hand keeps a firm grip on me. If I say, "darkness will surely conceal me, and the light around me will become night," even darkness isn't dark to you, darkness and light are the same to you." | Psalm 139: 7-12, ISV
God personally inhabits the creative work that takes place in Genesis. It is His Spirit that empowers life, light, knowledge, beauty, creativity, joy, goodness, fruitfulness, and blessings (Genesis 1:31). It was His Spirit that brought life and order out of chaos and darkness. Everything seen and unseen is called into being by His Spirit and continues to exist by being connected to His Spirit (Job 34:14-16).
"By the word of the LORD were the heavens made; their starry host by the breath of His mouth." | Psalm 33:6, NIV
'Whereby The World That Then Was Being Overflowed With Water Perished'
This good world that God breathed into life did not remain that way for long. Genesis 6 paints a grim picture of a world that had fallen once more into chaos, disarray, and spiritual darkness.
Some 1600 years after creation, the world had become so evil that God regretted He had ever made humans (Genesis 6:6). In fact, it broke His heart. His Spirit, everything that is good and right, was sustaining a creation that was 'rotten to the core' (Genesis 6:5) and which was actively striving against God's Spirit (Genesis 6:3). The Hebrew meaning behind Genesis 6:5 is that it was not only the imagination of humans that had been corrupted but their purposes and desires too. They had brought darkness and ruin into the world to the point where God's Spirit, which sustained all things, including humanity, would no longer choose to sustain such evil.
Genesis 6-8 provides the narrative of the catastrophe that came upon humanity. The 'world that then was' was completely erased by water and all in whom the 'spirit of life' resided perished (Genesis 7:22).
"And every living thing on the face of the earth was destroyed – man and livestock, crawling creatures and birds of the air; they were blotted out from the earth, and only Noah remained, and those with him in the ark." | Genesis 7:23, BSB
"…that by the word of God the heavens were of old, and the earth standing out of the water and in the water: Whereby the world that then was, being overflowed with water, perished." | 2 Peter 3:5-6, AKJV
Only Noah, who had 'walked with God' and his family were saved (Genesis 9:6). The phrase 'walked with God' recalls, perhaps, the original unity of the relationship between humanity and God, where God had 'walked in the cool of Eden's garden' alongside humans (Genesis 3:8). This unity was disrupted when Adam and Eve, grasping at equality with God, acted in opposition to God's will, resulting in them being banished from the garden and God's Presence. 'Walking with God' is often used throughout the Bible as an expression of returning to a unified relationship with God. It's what we were created for and what God has always intended for all of humanity.
"For we are His creation, created in Christ Jesus for good works, which God prepared ahead of time so that we should walk in them." | Ephesians 2:10, NIV
Born Again Of Water And Spirit
It is over this vast emptiness of water that we once again see a bird hovering, signaling God's Presence (Genesis 8:8-17). 'The world that then was' had been born again of water and spirit, washed clean and ready for hope and the regeneration of life.
"Then he [Noah] sent out a dove to see if the water had receded from the surface of the ground. But the dove could find nowhere to perch because there was water over all the surface of the earth; so it returned to Noah in the ark. He reached out his hand and took the dove and brought it back to himself in the ark. He waited seven more days and again sent out the dove from the ark. When the dove returned to him in the evening, there in its beak was a freshly plucked olive leaf! Then Noah knew that the water had receded from the earth. He waited seven more days and sent the dove out again, but this time it did not return to him." | Genesis 8: 8-12, NIV
Centuries pass. The Spirit of God moves powerfully through the ebb and flow of the history of humanity. His intention for His creation will not be thwarted and He will walk with humanity again in a whole and restored relationship. The way He will accomplish this is, of course, through His Son, Jesus.
Jesus | The New Creation
God steps personally into our drama by sending His Son. The Word, the expression of God, the sum of all His will, His consciousness, His emotion, His character, and His power was poured out and made human (John 1:14).
John, the author of the fourth gospel account in the New Testament, deliberately parallels the Genesis account when beginning his record of this pivotal moment in human history; the arrival of Jesus, the Son of God. He tells us that 'in the beginning was the Word (logos), and the Word was with God, and the Word was God' (John 1:1). The use of the word logos here is deeply connected to who God is, to the very nature and essence of God, containing within itself the ability to intelligently and lovingly create and sustain life.
Interestingly, perhaps because of the lofty and soaring theology contained in his writings, the apostle John is often symbolised by an eagle, reminding us once again of a bird, brooding over dark waters, poised and waiting to create.
That 'Word', and all that is contained by the expression, became a human and 'dwelt among us'. He was 'God-With-Us' – and anyone who saw him saw all the radiance of God's glory; the exact representation of His being (Hebrews 1:3, John 14:10-11). In him, was life and the light of men (John 1:4). He is the Light that shines in the darkest places of the human heart, bringing peace to the chaos and order and beauty again. That human, of course, was Jesus.
"For God, who commanded the light to shine out of darkness, hath shined in our hearts, to give the light of the knowledge of the glory of God in the face of Jesus Christ." | 2 Corinthians 4:6, KJV
Jesus was human like us. And yet, there was something different about him too. He was a man, but not merely a man. In him, 'the entire fullness (completeness) of God dwelt in bodily form' (Colossians 2:9). Jesus was a new kind of creation, a new kind of human and he came to show us how we can be a new kind of human too.
"The first man was named Adam, and the Scriptures tell us that he was a living person. But Jesus, who may be called the last Adam, is a life-giving Spirit." | 1 Corinthians 15:45, NIV
Jesus came preaching the good news of salvation, of reconciliation with God, of being able to walk with God in complete harmony again. Jesus enters the tablet of human history like a blazing fire, burning away all that is false and bringing to light that which is true (Malachi 3:2-3).
There is a new reality, he affirms, one where God rules completely in the hearts of humanity and this reality, he proclaims, is right now! The kingdom of God had arrived and this new kind of living would ignite like fire in people's hearts (Matthew 3:11, Mark 1:15)
It is early in his ministry that Jesus demonstrates how this new kind of living begins. He comes to Jordan, where John the Baptist was preaching the baptism of repentance. John's baptism was first intended to bring people to an acknowledgment and repentance of sin.
But John also tells the crowds that a little water would mean nothing if they weren't prepared to change their lives. Baptism needed to ignite the kingdom life within a believer, renewing men and women from the inside out. They needed to be 'born again', of water and of spirit.
Jesus showed exactly what this looked like. Although He didn't need baptism for the forgiveness of sin – he never committed any, he still participated in the baptism of repentance, to 'fulfill all righteousness (Matthew 3:15). He demonstrated clearly what would be required of all humanity (the act of belief and baptism) to be able to participate in this new kingdom life.
Upon rising from the water, the Spirit of God came to rest upon Jesus in the form of a dove, and a voice from heaven proclaiming 'this is my beloved Son, in whom I am well pleased.' (Matthew 3:16). This was a public demonstration of not just the validity of Jesus as God's son but also how all believers who participate in this new creative work would experience rebirth by God's Spirit.
Not long after his baptism, Jesus confirms the significance and importance of being 'born again of water and spirit'. He speaks with Nicodemus, a prominent Pharisee and leader of the Jews. Nicodemus believed Jesus to truly be a teacher who had come from God and Jesus takes the opportunity to reaffirm that being reborn of water and spirit is an essential part of becoming a new creation, and 'entering the kingdom of God' (John 3:5).
The baptism of Jesus is another beautiful echo of the story first told to us in Genesis, where God's Spirit hovered like a bird over the waters, before beginning His incredible creative work. It also recalls the story of the washing and regeneration of the world in Noah's day and the new life that was signaled by the flight of a dove above the waters.
New Life By The Spirit
The truth is, what really needs washing clean is the human heart. The innermost part of humanity, where God wants to be completely at one with us, was separated from God by Adam and Eve's choices. The human heart lies in darkness and chaos and only God's Spirit can bring life and light to this disordered place (Jeremiah 17:9, Mark 7:21-22).
As it was in the beginning, the chaos and darkness that is in our lives can be washed clean and reordered. Regeneration, to be born anew, is the termination of people of the old creation with all their deeds and the germination of them in the new creation with the divine life. We take all of the darkness, failure, chaos, and ruin of our life and surrender it to God, who erases it in the water of baptism (Matthew 3:15, Matthew 10:28, Acts 22:16, 1 Peter 3:21, Colossians 2:12, Mark 16:16, Matthew 28:19-20, Ephesians 4:4-6).
Light enters the darkness. That light is Jesus and he brings the knowledge of God into our hearts.
"For God, who said, "Let light shine out of darkness," has shone in our hearts to give the light of the knowledge of the glory of God in the face of Jesus Christ. But we have this treasure in jars of clay, to show that the surpassing power belongs to God and not to us." | 2 Corinthians 4:6-7, ESV
New life is ignited in us and the new human is reborn. Yet this new life does not come without the promise of help (Ephesians 1:13-14). Jesus tells his disciples that God will send them a comforter to teach and guide them in this new kingdom life. They will be empowered and sustained by nothing less than the Spirit of God – the Holy Spirit; the same power that raised Jesus from the dead!
"If you love me, you will keep my commandments. And I will ask the Father, and He will give you another Helper to be with you forever – the Spirit of truth. The world cannot receive Him, because it neither sees Him nor knows Him. But you do know Him, for He abides with you and will be in you. But the Helper, the Holy Spirit, whom the Father will send in my name, He will teach you all things and bring to your remembrance all that I have said to you." | John 14:15-16, 26, ESV
"Peter replied, "Repent and be baptised, every one of you, in the name of Jesus Christ for the forgiveness of your sins, and you will receive the gift of the Holy Spirit. This promise belongs to you and your children and to all who are far off – to all whom the Lord our God will call to Himself. With many other words he testified, and he urged them, "Be saved from this corrupt generation." Those who embraced his message were baptised, and about three thousand were added to the believers that day" | Acts 2:38-41, BSB
"He redeemed us in order that the blessing promised to Abraham would come to the Gentiles in Christ Jesus, so that by faith we might receive the promise of the Spirit." | Galatians 3:14, BSB
When Jesus commissioned his disciples to take the good news to the world, making disciples of all nations, he gave them the following instruction:
"Therefore go and make disciples of all nations, baptising them in the name of the Father and of the Son and of the Holy Spirit, and teaching them to obey everything I have commanded you. And surely I am with you always, to the very end of the age." | Matthew 28:19-20, NIV
Holy Spirit | This Same Power
The mechanism by which we are renewed, as Christians, is no different from that in the past. It is God's Spirit, which has been with God and is God since the beginning, and by which everything seen and unseen was created.
Having surrendered our own self-will, we are instructed to ask, as little children would from a parent, for the gift of God's Spirit to come and 'make His home with us' (Luke 11:13, John 14:23). In our new kingdom life, we are directed by God's Spirit in the face of evil and doubt and are strengthened by the teachings of His written Word, the Bible (John 14:16-17, 2 Timothy 3:16-17).
We are filled with faith and hope, because of the love of God which has been shed in our hearts by His Spirit (Romans 5:5). We rejoice in the Lord, and in the strength of His might, acknowledging that even in this renewing and regeneration, the work is not ours but His (Philippians 2:13, Ephesians 2:10, 2 Corinthians 4:6-7). We are comforted, despite our Saviour's absence (John 14:18-25), walking in the path of light by God's Spirit (Romans 8:14, 1 John 1:7).
Our bodies become temples of the living God (1 Corinthians 6:19-20), where His Spirit is pleased to dwell (Romans 8:9) and we wait, with patience in this life, for the final redemption of our mortal bodies by that same Spirit at Jesus' return (Romans 8:11, 1 Corinthians 15:53, Romans 2:7, 2 Corinthians 5:4).
---
This article was first published 28 October 2019