A Guide For LGBTQ+ Christian Teens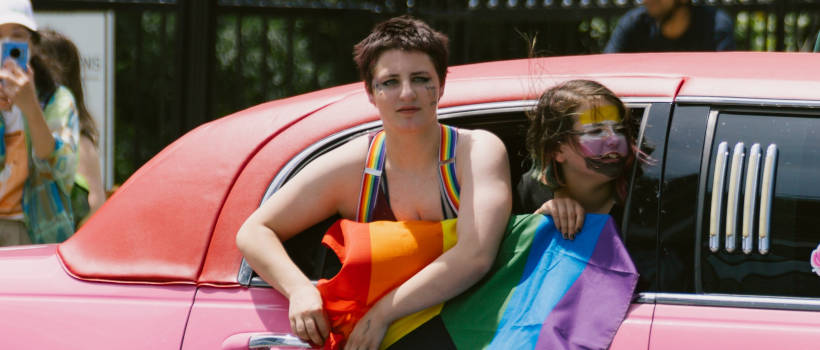 Reading Time:
8
minutes
Are you a Christian teen struggling with or feeling confused by LGBTQ+ and gender identity issues? Then this is a conversation we need to have…
First of all, know this. You are loved.
The God of all the Universe, the One in whose image you're made loves you. He knows you; your innermost fears, your deepest insecurities, and your hopes and dreams for the future. He has counted every hair on your head.
This is the same God who can count the stars by name, who has caused worlds to come into being, and who has decided that no two snowflakes should be the same.
This God is interested in knowing and being known by you.
There's a beautiful little verse in the gospel of Matthew that tells us just how much God cares for us. In Matthew 6, Jesus says to the listening crowds:
"Look at the birds in the sky! They don't plant or harvest. They don't even store grain in barns. Yet your Father in heaven takes care of them. Aren't you worth much more than birds?" | Matthew 6:26 CEV
God cares for us and He cares about us.
You are of infinite worth to God.
Know this too, He is not astonished by your mistakes. He's not surprised by your fears or doubts and He isn't shocked by the things you've done wrong. There's nothing you've done that He hasn't already seen coming, that He hasn't accounted for, or that He hasn't already prepared a way through. Your best moments and your worst moments are all known to him.
In fact, he knows exactly how it feels to be human because His Son Jesus became human, just like us. He experienced all that we do; the pressure to conform, the criticism of peers, the rejection of friends, the pull of temptation, the pain of betrayal. He knows and he understands.
You are not alone.
You Might Be Wondering…
Why am I here? What on earth is the point of humanity?
This is a great question and it's really one of life's most basic questions: what is the purpose of human existence?
Well, we're all here for a reason and it starts with God.
God has a plan. I know it sounds a bit cliched but, He really does.
He intends to fill the earth with His glory, with all the amazing attributes and characteristics of Who He is; love, kindness, justice, peace, holiness, beauty… Basically, a perfect, incredible, amazing space, probably better than anything we can really get our heads around! And humanity was created to be a part of this plan; not just as a minor detail but as major character.
Humanity was created to rule over this world and all the creatures that live in it wisely and well, as God's image-bearers. Being an image bearer of God means that when you look at a person, you see God. And, in a collective sense, when you look at humanity, you see God. You see His character, His values, His glory, His holiness; everything about Him. He's the king of everything and we get to represent Him in this good, good world!
Part of this plan specifically involved the creation of male and female, a gender binary that many people today are rejecting. Yet this is exactly how God designed humanity, it is a foundational part of each of our identities, and, collectively, it's how humanity reflects the completeness of God's image. When men and women (male and female) come together in one, extraordinary collective, we are the complete image of all that God Himself is. Isn't that incredible?
LGBTQ+, The Gender Binary + More…
You might be struggling with the idea of a gender binary of male and female. You may feel at odds with your body; unhappy or discomforted by your physical appearance, or challenged by how your body is changing, without your 'agreement' or 'permission'. You might be surprised at what you look like or sound like, or maybe at how differently people start to treat you. You might feel like you don't even recognise yourself when you look in the mirror.
All this is normal, and ok, and you will be ok.
You are transitioning, as you have been designed to do, from a child to an adult to becoming a functional and fully-formed man or woman. This is one of life's great crossings, a time of new discovery and development, but also of great upheaval and emotional angst, and it can be a really tough space.
It's ok to feel a bit out of your depth, super cranky with your parents or siblings, or all jumbled up and unsure of who.you.really.are.
Think about this for a minute; when a caterpillar changes into a butterfly, it's totally mushed up, taken apart, and reorganised into the beautiful insect that finally emerges. It shouldn't really surprise us that moving from young, dependent children to fully independent adults can feel a bit like this process.
You will feel a lot of feels. And while our feelings are real, and they often provide important signals about what is going on in our world, we need to know that they're not always reliable. Feelings alone are not adequate markers of what might be true.
So it's really important to not rely on our feelings alone but to take other things into account as well. These might be things like wise guidance or advice from people we know and trust, and who we know love us, applying a healthy dose of critical thinking to our decision-making and the values we want for our life, and, most importantly, the truths found in God's word and what He has to say about us.
It's really important, particularly during times of transition and change, to remind yourself that you are deeply known and loved by God, even when you feel like you don't know yourself. You have been created with intention and purpose, and God has a hope and a future planned for you. He has taken care of you and he will continue to take care of you, through your good times and (especially) in your bad times. You can take anything to Him and you can ask Him for guidance and help, through prayer and through reading His word. You can trust Him.
Remind yourself, if you are a female, that you have been gifted with unique and diverse qualities, specific to your sex. This is intentional, beautiful, and life-affirming. You are on your way to becoming a woman, with all the inherent and amazing attributes that God has designed for you. It might feel a little scary, a lot unknown, but you can trust that God knows what He's doing.
If you are a male, remind yourself that you have been gifted with unique and diverse qualities, specific to your sex. This is intentional, incredible, and life-affirming. You're becoming a man, with the opportunity to contribute your incredible characteristics and attributes to the purpose of God, as He has intended for you. You might feel overwhelmed, and more than a bit nervous but you, too, can trust that God knows what He's doing.
(And, just a little note here: one gender isn't better than the other, and neither is complete without the other. We need both men and women to truly image God in this world, as He intended!)
"It is out of the diversity and distinctive separateness of male and female that we humans are called to not only reflect the image and likeness of God, but we also represent God in the stewardship of His good and wonderful creation." (Genesis 1:28-29). | Focus On The Family
Let's Talk About Sex
You, or somebody you know, might be baffled by a (sudden and new) attraction to someone of the same sex, attraction to people of both sexes, or maybe just confused and overwhelmed by sexuality in general. This is often new and surprising territory for us all when we arrive here.
I want you to know that it's normal to feel these struggles and perhaps even experience confusion and emotional overwhelm. It's actually very common for teens to be attracted to or have sexual thoughts about people of the same sex and/or the opposite sex; it's often part of the emotional and physical changes that humans go through as they mature into adulthood.
The Bible tells us that sex is amazing, that it's been designed by God for the flourishing of humanity, and that it's part of His good creation. You only have to read the Song of Solomon to realise the Bible isn't shy about talking about sex (some of those passages are certainly blush-inducing!) But, as with everything, sex has been designed for a purpose and to be experienced within boundaries, with our good in mind.
What you need to know is that God has designed sex to be experienced by a man and woman, within the boundaries of a committed, life-long relationship (marriage). This kind of committed sex with a life-long partner provides physical, emotional, and spiritual intimacy, and is the foundation for a secure and stable family unit, into which children may be born.
Part of the original intention for humanity in Genesis was 'to be fruitful and multiply' (to have children) and to fill the earth with humans who will all bear God's image. To this end, God created one man for one woman (Adam and Eve) and they were brought together in the union of marriage, giving us the blueprint for healthy and flourishing sexual intimacy.
The bond that is created between a man and a woman in marriage and, particularly, in their physical unity, is a mirror of the character of God, in all its completeness. (The Bible also tells us in the New Testament that marriage is a symbol of Jesus and the church, who is called 'his bride').
God never intended for sex to be experienced by two women together, or by two men together, or outside of the committed, life-long relationship of marriage. Again, this is very counter-cultural to what you might hear around you, what you think your feelings are telling you, or even what your friends might believe.  But this is the Bible's truth about sex, and this is God's will for humanity, in order that we (humanity) will flourish.
If you're a teen struggling with your sexuality or a teen trying to maintain God's will in relation to sex (abstinence), please know you are not alone! It's really important that you find people you can trust, who can pray with you, who can encourage you in pursuing God's will for you, for your good and for your flourishing, and that you understand, too, that even when we mess up, God can still forgive us and help us get back on track (more on this in a minute).
You might find this online message by Ps Mark Lohman, from The Bridge Church (in the Chino Valley, California), on 'The Gospel & Sex' super helpful, and, if this is an area you're struggling in and would like some Christian advice and guidance on, I'd really encourage you to have a watch.
Getting Back On Track (Why We Need Jesus)
Being an image bearer of God means that when you look at a person, you see God. And, in a collective sense, when you look at humanity, you see God.
Well, at least, that's what was meant to happen.
Adam and Eve really put a spanner in the works on that one. You've probably heard the story; a garden, a snake, 'don't eat from a certain tree', a lie, disobedience, sin, punishment, death… It all gets pretty grim, right from the get-go.
And so even though we're made to image God, to be a significant part of His plan, and even though we were created with all the capability and purpose to do this, it gets messed up pretty quickly. The introduction of sin into the world brings about terrible consequences for not just Adama and Eve but for all creation. We live in a fallen world, with the echoes of our intended greatness all around us, but now subject to decay, death, and, in a lot of cases, hopelessness and despair.
But this is how much God loves you, how much He loves me, how much He loves us, His creation. While we were still sinners, Christ died for us. (Romans 5:8)
God sent His son to die for us! To fix up the issue of sin, to make a way for us to be forgiven for our mistakes, and to show us the way to live in right relationship with Him. He sent Jesus to save us, to redirect our lives towards His good and abundant way of living, and to help us see that our true reality, who we really are, is one beloved of God, intended for glory and greatness.
Every other identity – and the world around us has plenty of 'identities' on offer – are false and shallow copies of our true identity; a human made in God's image, intended to reveal His character and glory, and who, in Jesus, can find forgiveness and restoration and become empowered to live this purpose fully.
"God loved the people of this world so much that he gave His only Son, so that everyone who has faith in him will have eternal life and never really die. God did not send His Son into the world to condemn its people. He sent him to save them!" | John 3:16-17, CEV
God already knew how messed up we all are, He already knew the kinds of bad things we'd do, in fact, He's already seen all the bad things you'll ever do…and yet He still sent Jesus to die for you!
We all need Jesus. There's not a single person who hasn't done something wrong, who hasn't made a choice or taken an action that wasn't outside of God's ideal, who doesn't need Jesus to get back on track. Jesus gives us hope and a future, belonging, homecoming, and the opportunity to be fully known and truly loved.
An Invitation And A Challenge
One of the first things Jesus told people when he began his preaching ministry was "Repent, for the kingdom of heaven is at hand."
It was both an invitation and a challenge to the people then, and it's no less an invitation and challenge for you today, a 21st-century teen.
Will you turn away from your willfulness, from governing your own life without God's guidance, your persistence in trying to find identity in shallow and dissatisfying deceptions, and will you turn to the maker and creator of all things, the One in whose image you're created and with whom you have been intended to experience eternal and satisfying relationship?
God's story – the one written in the stars and carried on the wind – is the story of who each one of us was intended to be. It's a story that confirms we were made for more than just this life, that we're meant to be part of something greater, something eternal.
It's a story of promise; of knowing and being known, of being fully and completely alive, and this is what following Jesus is all about.
Maybe you've never thought about following Jesus? Or maybe you have been thinking about following him and becoming a Christian, but just aren't sure how to take that step. That's a topic I intend to talk about more in my next article in this series (Letters To My Kids) so look out for that soon!
In the meantime, I'd love to hear from you. Let me know your thoughts on this topic (you can message me publicly or privately here or on my socials), or any questions you'd like answers to on this topic (or anything else) in upcoming articles!
"Surely, Lord, you bless the righteous; you surround them with your favor as with a shield." Psalm 5:12, NIV

Lord, I ask that You will rescue, guide, and protect our teens today. Answer them when they call on You, and be with them in times of trouble. I know that Your plans for them are good, and not for their harm. Guard and protect them with Your favor as with a shield (Psalm 5:12). Amen." |  Prayers For Teens